Meal boxes have become popular in recent years. And I understand why. It is not only fast and easy, but it also seemed a very nice way to put something else on the table. That is why I tried out the Marley Spoon meal box last month. Today I share my experiences with you and I have a nice discount code for you!
The reason that I thought it would be fun to try out a meal box is because I really enjoy cooking. Try new recipes, sprinkle with salt and herbs to make the tastiest flavors and simmer sauces on the fire throughout the afternoon. But what I do not like is the search for recipes. I just do not open a cookbook as quickly or clean recipe sites. It is not my hobby and it also takes a lot of time. How nice is it to try new dishes, but that you do not have to spend a lot of time thinking up or looking up those recipes. With Marley Spoon, you can choose from a selection of dishes each week, which you then receive at home at a time of your choice. Only that sounded like music to my ears.
At Marley Spoon you can choose from 2, 3 or 4 meal boxes per week. The boxes are for 2 people or 3 to 4 people and there is also an option for a vegetarian box. The price per person per meal is between € 4.70 (four times a week for 3-4 people) and € 9 (twice a week for two people) and depends on how often and for how many people you order. Whether you find it cheap or expensive depends on your budget and what the costs of the dishes are that you normally cook. I think it's a good price for what I get in return (a lot of convenience, delivery and dishes that I would not easily make). After some research I also saw that other meal boxes are around this price.
Marley Spoon uses a flexible membership. This means that you can stop your membership without any questions and can pause your membership every week or for a period of several weeks. For example if you go on vacation or simply can not manage it.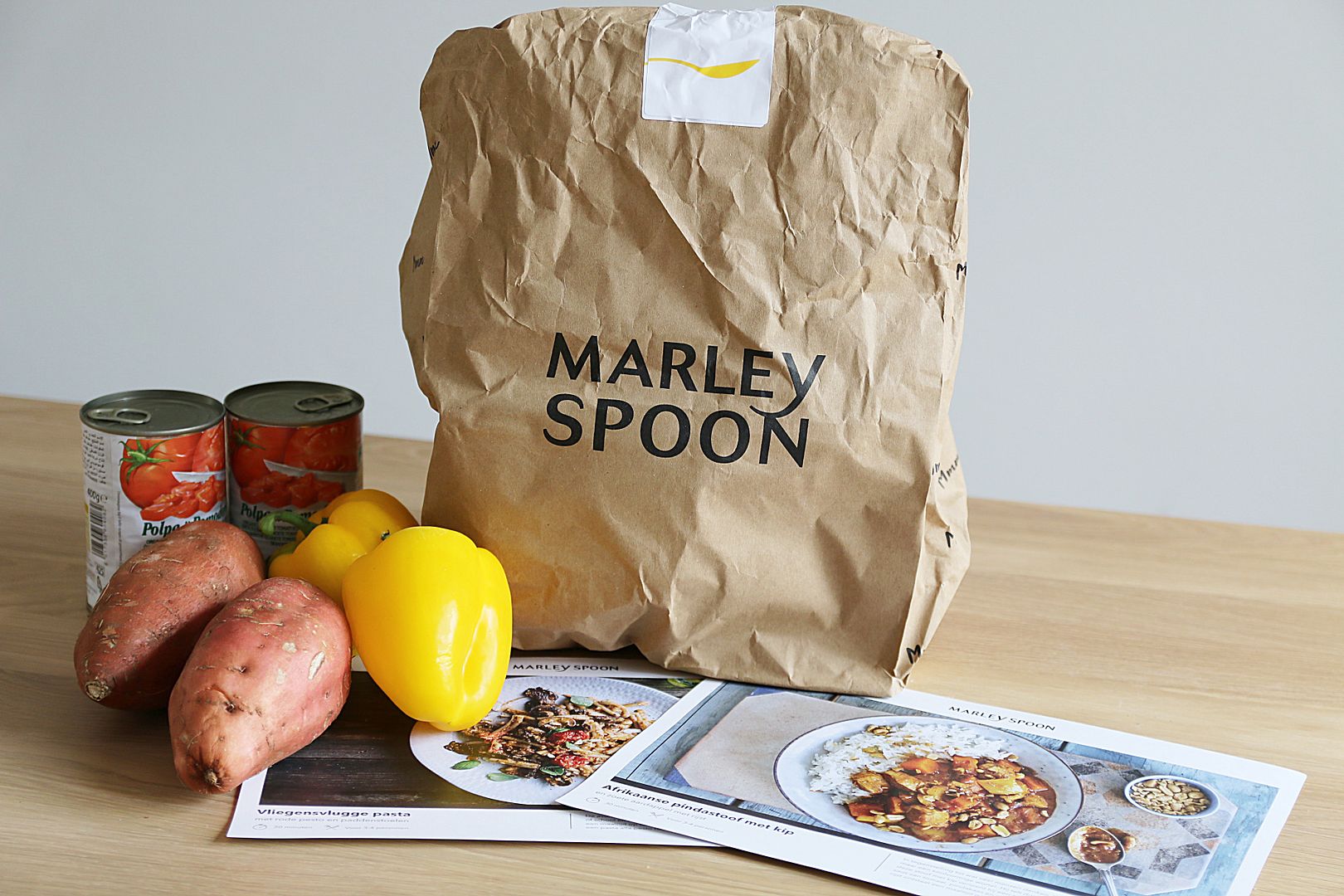 In this week vlog you saw my first experience with Marley Spoon and I made perhaps the tastiest dish so far (meatballs in gravy with carrot and parsnip) and sweet potato nacho style. Since then I have tried a dish twice.
All dishes are packed separately in a paper bag. Ideal, because then you do not have to look for a break to all the ingredients that belong to the dish. Incidentally, I noticed that there was actually little wrapped in plastic, only the much needed. At the box you will find recipe cards with an extensive description and useful tips for preparing or storing the dish.
Before you receive the box you get an email from Marley Spoon in which they summarize what you should have in-house basic ingredients for this week (such as vinegar, olive oil or butter) and you will find a list with the order in which you can best prepare the dishes. can eat (in connection with the shelf life). Handy!
All ingredients are precisely measured. Nice and easy! Everything is also super fresh. I did not come across basil leaves or pepper peppers once in a while, which I do have with some regularity in my Albert Heijn order …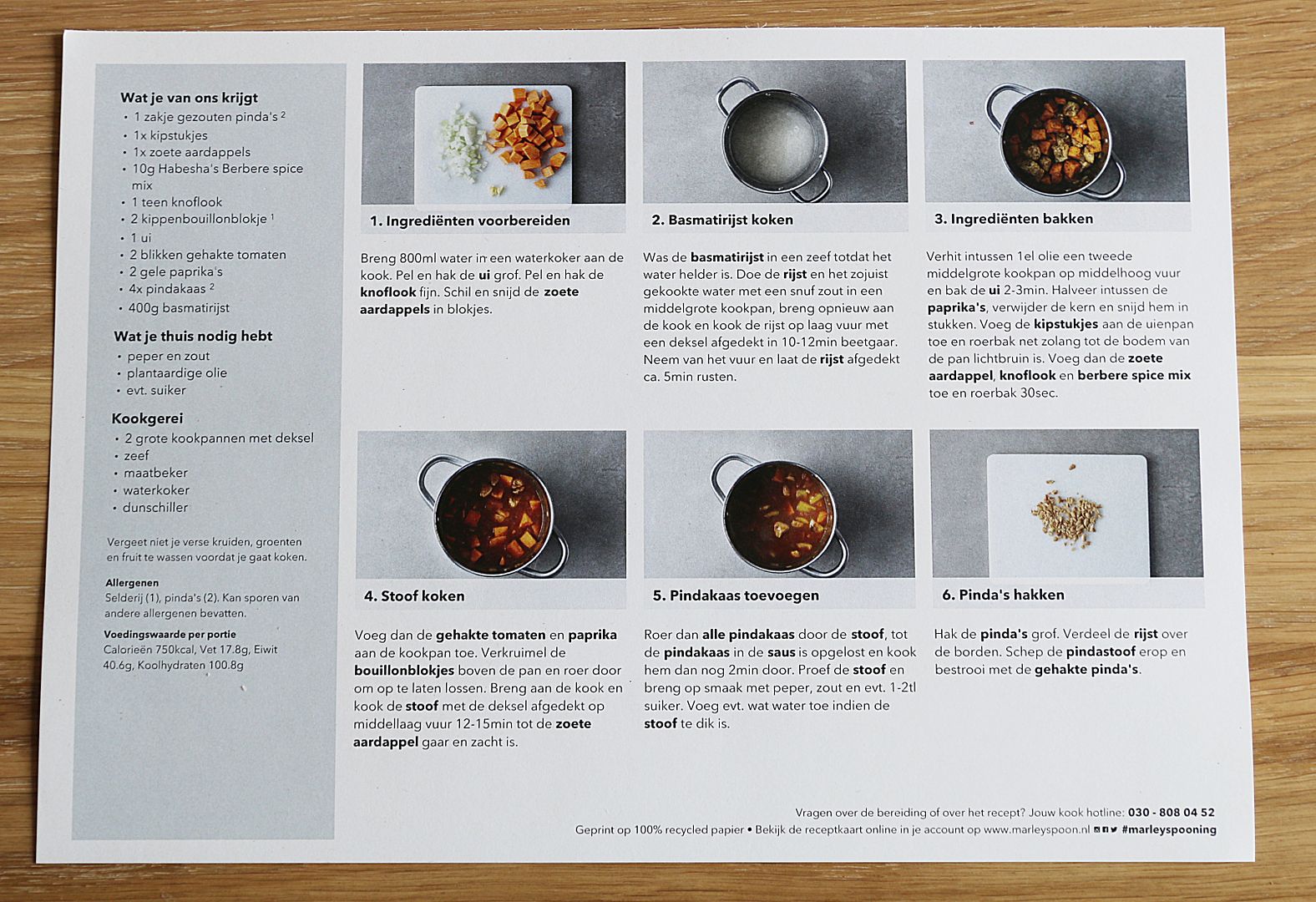 Time to cook! It is a case of child can do the laundry. You pull that bag out of your fridge and then it is a matter of following all the steps. Cut, fry, cook and serve!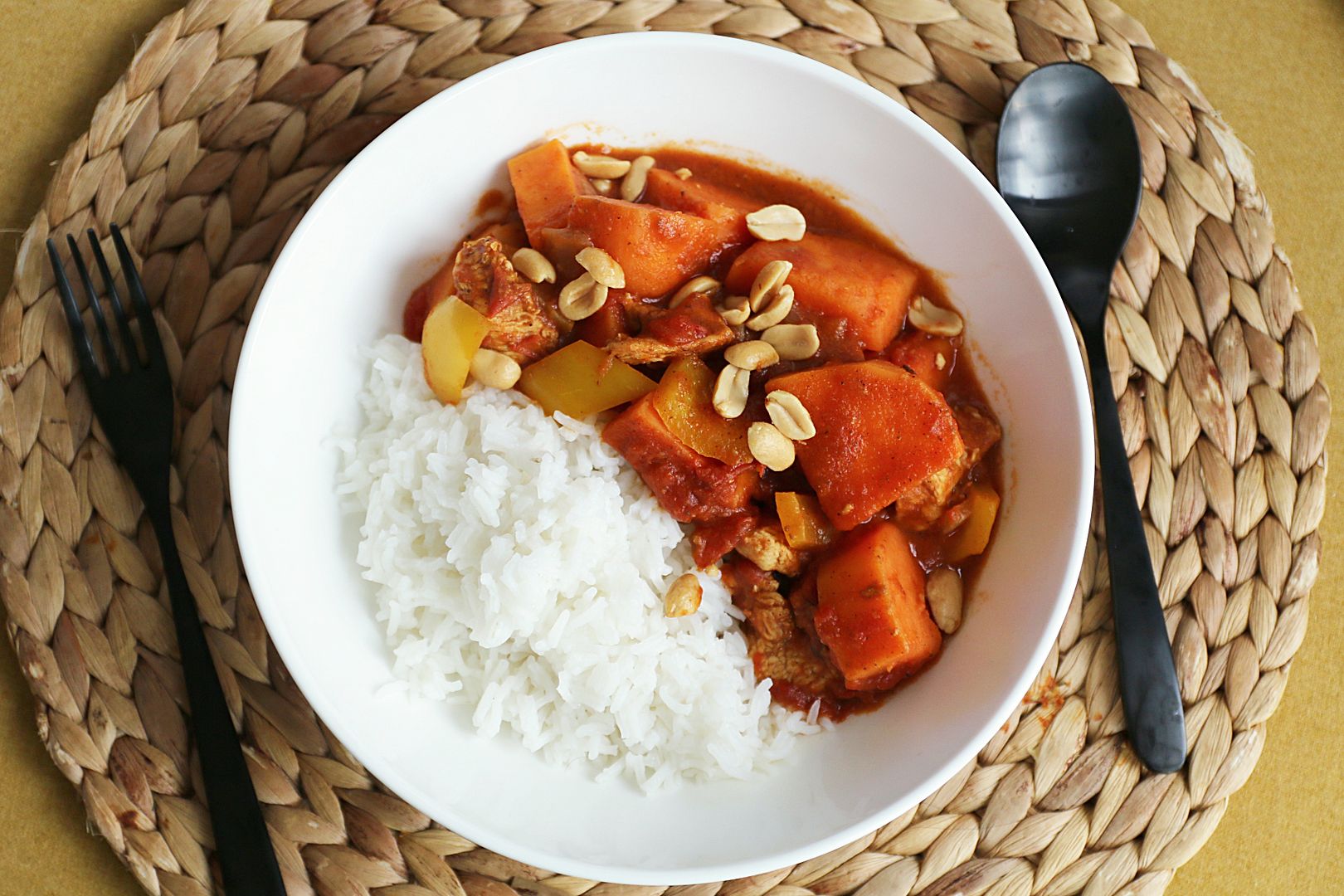 Here you can see the African peanut stew with sweet potato, peanut butter, peanuts, peppers and tomato cubes. I thought it was a genius idea to just add peanut butter to a stew and it was certainly delicious!
This recipe was really heavenly! You had to make your own pesto with sundried tomatoes, cherry tomatoes, almonds, basil and parmesan cheese. Then the mushrooms and tomatoes stir and then people with the pasta, roasted almonds and some basil leaves. So delicious! Djurre and I have scooped up three times. Speaking of the quantities, I think that's good! The amount of rice and pasta is often generous and in terms of vegetables and sauces it is good in relation to the number of people for which you order the box.
If you still have not got it, yep, I'm very enthusiastic and I'm sure to order a box with some regularity! I find it so nice to really put something else on the table again. When I scroll through the recipes of Marley Spoon on their website, I see so many recipes that I'm curious about. I also find it easy: I do not have to think twice a week during the weekly shopping and I do not spend much time on the weekly shopping. Above all, it is also very tasty and that is so important, right?
In the video where I first cooked with Marley Spoon, I got the question whether it is kid proof. Marley Spoon has dishes that could generally be kidsproof, but from my own experience I know that even 'kidsproof' dishes can still be labeled as 'dirty' by critical preschoolers. 😉 I do not have to worry too much about that myself. But I do not really take into account what my children like when I put my box together. Two or three times a week I put on the table what I like and the rest of the week it is their party with AVG'tjes, pasta and soups. 😉 In addition, I also think that children should try everything and I would like to offer them many different dishes, so this is a nice way.
Are you curious and do you also want to try a Marley Spoon box? Then I can offer you a nice discount code! Order here with the discount code 2WMN your first Marley Spoon box with a € 25 discount.